Specialized Producer and Executive of GFRC Facades in Iran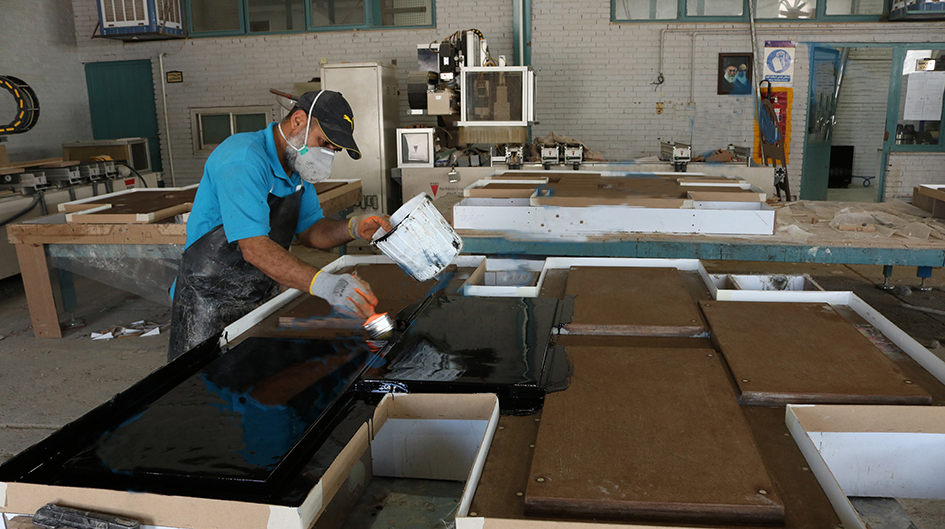 Factory Add. Saba 1, North Sa'di, Imam Khomeini Bld, Shahin Shahr, Esfahan, Iran
We Depict the Dreams and Embody Them into the Formation of Buildings Which Represent the Flair for Art and Architecture with Best Materials
Fields of Activity
Recent advancements in the technology and know-how have made it possible to produce formable and flexible materials which were once thought to be unattainable. In recent years, architects have paid a considerable attention on using GFRC and GFRG materials and taking advantage of them in the design and execution of the building facades.
Today, taking advantage of sublime expertise of Iranian engineers and craftsmen, these materials are produced in Pars Nama business unit affiliated with Omran & Maskan Esfahan Co., having some significant qualifications such as excellent formability which correspond to the design, durability, and lightening of the structure.
In order to indigenize the process of design, production, and implementation of GFRC and GFRG parts, an allover investigation was performed among the most creditworthy producers of the product in the world. As a result of these investigations, which resulted in transferring of pertaining knowhow.
At present, Pars Nama business unit affiliated with Omran & Maskan Esfahan Co. operates in various fields such as; design, production and execution of building facades, city furniture, and interior decoration taking advantage of GFRC at international levels.
Technical Unit
One of the most important divisions of this business unit is the Technical Unit, considering the fact that every procedure must be monitored and checked in compliance with by-laws and guidelines in order to produce standard parts, benefiting expert staff, highly updated knowledge and software, the necessary measurements and investigations are taken. To do so, and in the first step the design of the façade which can either be produced by our architecture team or placed by the client goes under inspection. In the next step, the design structural calculations are done and architectural considerations are taken. Then the complete design is divided into small parts and is sent to the production.
Mould and Metal Work
In this stage, the design of the mold and the part supporting frame is sent to molding and blacksmith unit for producing appropriate mold and other fixture and appurtenances. At first, the model of the mould is produced and then according to the type of design and kind of implementation, the material of the mould (wood, silicon, or fiberglass) is chosen and the mould is produced. The metal fixtures and appurtenances are produced in the blacksmith division using a special technique for each product (GRC, GRG, or GRP). At the meantime, the frames and are designated and put on the façade.
Production of Panels
Having produced the moulds, metal frames, fixtures, and appurtenances for the panels, the production of the panels is initiated. Two methods; spray method and premix method, are used in proportion to the type of design and the cast condition. Using quality materials and special techniques in production, improves the density and curing so much that as a result the end product would enjoy a very high quality. The panels, after the production, are packed using standard methods and dispatched to the location of each projects as per their technical codes.
Quality Control
Control of the quality form dimensions, surface finishing, material specifications, is carried out step by step at every stage in order to attain the highest quality levels. After curing and the completion of surface finishing, the products are packed and dispatched to the location of each project according to their technical code.
In the location, the panels are installed on the frames with a very high precision. Fixing the panels onto the frame is performed using bolted or welded connections in accordance with authentic standards. At the end the joints between panels are sealed with special flexible sealing materials.
GRC Introduction
Glass Fiber Reinforced Concrete (GRC/ GFRC) is a kind of composite concrete based material compounding cement, stone granule, water, anti-alkali glass fibers and other additives. Force transfer in this material is through shear stress transfer among the fibers. Every GRC panel is composed of one main coating with the minimum thickness of 18 to 19 mm, which is installed on the metal frame as to fabricate the façade for the structure. Mechanical properties of GRC depends on various elements, such as; blending, production method, type and amount of fabrics, length of fabrics, type of additives.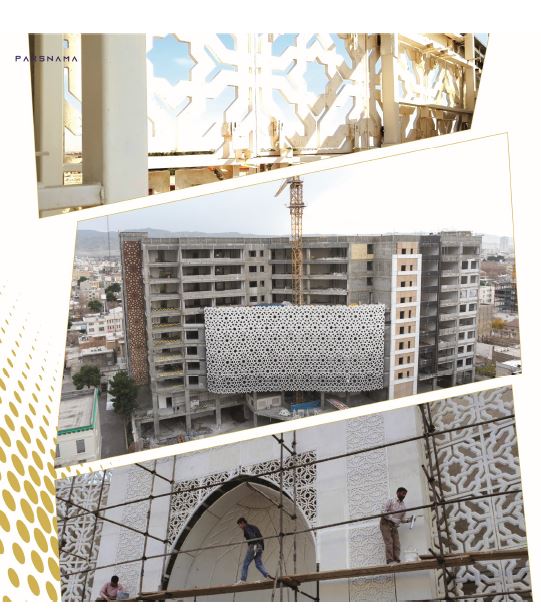 Abrasion Resistant Glass Fibers
The amount of abrasion resistant glass fiber in GRC products is between 2 to 5 percent which is added to GRC mortar through spraying or pre blending method during the process of production in the factory. Having the mentioned fabrics in GRC, is a prominent advantage of these products whereas it can fortify both elastic and pressure resistance which is a very important factor in extending the durability and removing common cracks of concrete.
GRC Advantages
Variety in dimension and size favorable for designers
Rapid installation which can result in speed up of the project
Resistant to any climate esp. in wet regions
Resistant against earthquake and fire
Anti-dust quality
Environmentally friendly
Employing GRC panels, results in reducing the amount of concrete and metal in structural steelwork and therefore lightening of the structure. It is noticeable that natural materials like wood, earth, etc. are not used in producing these panels. This product does not emit fumes or harmful waves in the location and does not threat the residents' health as a result. Some other benefits of these products in line with preservation of nature are as following:
Reducing the excavation of natural resources
Using recyclable and renewable materials
Reduction in fuel used for their transportation in comparison with heavier materials
Appropriate insulation
Lightening of the structure
Latticed Panels as a Potential for Special Light Design
One technique in segmenting the space without creating noise in environmental light, is to use latticed panels in in designs. GRC panels can be produced in latticed panels in favorable forms and dimensions without any need to cutting and waste of material.
Anti-dust quality by Applying Nanotechnology
GRC panels' technical specifications suggest very low absorptive capacity to water, moreover; they can become fully water-proof by spraying a hydrophobic nano-coating layer, which is transparent and has no effect on the color, onto them. This process results in zero water absorption in such panels. This is an outstanding advantage in maintaining cleanliness of the panels at the time of acid rains. By applying nano-coating onto the panels, dust cannot penetrate into their material and they become furnished just by a dash of water or rain.
Earthquake and wind Proof
In order to scrutinize the impacts of earthquake and wind in designing the facades, panels and installation frames are analyzed by applying expert software and according to the latest by-laws in building construction.
Lightness of Panels
Although the specific weight of the concrete used in the panels is almost the same as the concrete used in common concrete, the production of thin panels is also possible thanks to its high bending potential. Thus, surface unit weight of such material is less than other common materials in making façades. This business unit., taking advantage of optimum design and accurate installation system, brings about the lightest possible output in the project.
No Limits in Design
No limit can be imposed on design by employing GRC. Applying these products can make architects' most high-flying images practical. By using these materials, very unique and outstanding façade making projects can be carried out.
Resistant to Different Climates, esp. Wet Climate
According to the type of material and applying special techniques in production, the GRC produced in Pars Nama Business Unit, shows resistant to different climates and can be easily used in different conditions worldwide raging form very cold to very hot and also wet.
Resistant against Fire
GRC is fully resistant against fire according to its technical specifications. This advantage, at the time of fire and high temperature, does not let the fire spread to the other parts of the building or emission of fumes and at the same time let the occupant enough time for the evacuation of the building.
Variety without Limit in Design and Proportion
GRC production process method, in certain ways, removes any restriction in design and using pigment particles provides the possibility for various colors.
GRG Introduction
Glass Fiber Reinforced Gypsum (GRG/ GFRG):
GRG is a composite gypsum-based material compounding special gypsum, glass fibers, and other additives. This compound causes the product to be washable and reduction in fragileness. Having the thickness between 10-15 mm, these materials can be used for the interior design of the structure. Employing GRG, different designs and forms for the interior design of columns, column heads, domes, and ceilings are now simply practical. Besides, variety in color and design is an incomparable quality of this material.
Advantages of Applying GRG in Interior Design
Easy to Install
Resistant to earthquake
Resistant to high temperature and fire
Colorability
Lightness of panels
Possibility of producing latticed panels and light design
A Brief History of GRG/GFRG
GRG/GFRG was first introduced in England and short after produced in the US and Canada. In 1978, more production lines for GFRG started to work in North America and using prefabricated GRG panels in structures became prevalent. This caused more advancements in the technology used, and helped it to spread worldwide.
GRG Components
GRG compounds gypsum, glass fiber, and special additives and is employed to produce panels used in interior design, which are light, thin, and hard as well.
It is noticeable that the gypsum used to produce panels needs to be natural with low alkali reaction in order to be adaptable with glass fiber type "E". More of additives which are used in gypsum industry can be used in GRG production.
Colorability
There is no color-limit in GRC products.
Latticed Panels
One technique to segment the space without creating noise in environmental light, is to use latticed panels in designs. By using these materials, latticed panels can be applied in different form and sizes without the need to cutting and waste of material.
Resistant against Fire
GRG is fully resistant against fire according to its technical specifications. This advantage, at the time of fire and high temperature, does not let the fire spread to the other parts of the building or emission of fumes and at the same time let the occupant enough time for the evacuation of the building.
Resistant to GRC
Mechanical qualities of GRC and employing standard methods of joints, bring about a proper function against earthquake forces.
GRP Introduction
This product is a kind of plastic or reinforced polymer (Glass-Fiber Reinforced Plastic). It is noticeable that there are different types of glass fibers each with a unique quality which can be used as one of the most useful kinds of fibers to produce reinforced polymer composites. Different resins are used to produce Glass-Fiber Reinforced composites, nevertheless, Epoxy resins are vastly used for their simple process and economic issues.
Composite panels have an insert with one or two sided burnished smooth layer surface. Reinforcing fibers have the main role in strengthening and resistance of composite panels including Aramid fibers, Carbon fibers, Kevlar fibers, etc. These fibers are in different shapes and types.
GRP Usages
Usage in exterior and interior facades
Making city landmarks
Making water fountains
Unique qualities of
GRP Products Unique Qualities
High Mechanical Resistance in comparison to their weight
High Resistance against Abrasion
Better Mechanical Qualities in Comparison to Metals
Heat Proof Quality
GRP Compounds:
Arthophetalic and Isophetalic Polyester resins
Vinylester resins
Epoxy resins
Cobalt and Lead improver
Epoxy and UP consistency
Erzovyl
Titan
Needle and straw-like Glass Fibers
Calcium Carbonate
GRP Advantages
Resistant to Heat
Resistant to Weight
Faster installation in comparison to the traditional Materials
Lower Transportation Costs in Comparison to the Traditional Materials
Flexibility
Slight need to Maintenance
Long Life Span
Resistent to Chemicals and Acid Rains
PROJECTS

Namak Aborud Beach Club
Client: Omean & Maskan Shomal
Location: Namak Abroud
Façade Area: 6500 m2
Project Date: 2019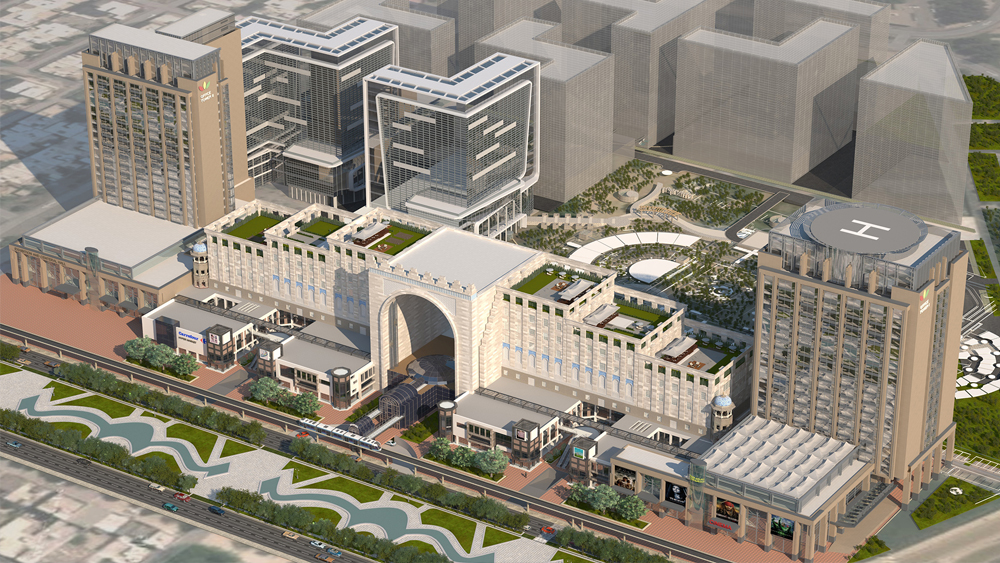 Kermanshah City Center
Client: Bank Ansar Staff Holding
Location: Kermanshah city
Façade Area: 7000 m2
Project Date
Sunnis' Main Mosque on Qeshm Island
Client: Qeshm Sunnis' Main Mosque.
Location: Qeshm Island
Façade Area: 4700 m2
Project Date: 2019- 2020
Imam Hassan Mojtaba (PBUH)
Client: Khaneh Co.
Location: Tehran
Façade Area: 700 m2
Project Date: 2018
Firoozeh Mashhad residential, commercial, and administrative building is located in Mashhad central district adjacent to Imam Reza (pbuh) holy shrine spiritual and pilgrimage core. This project has major facilities such as private and public parking space, food court, health club, hyper market, coffee shop, and green roof.
Towhid Residential Complex
Client: Private
Location: Esfahan city
Façade Area: 500 m2
Project Date: 2019
Bab Al-Javad Hotel
Client: Omran & Maskan Shomal
Location: Mashhad city
Façade Area: 3500 m2
Project Date: 2020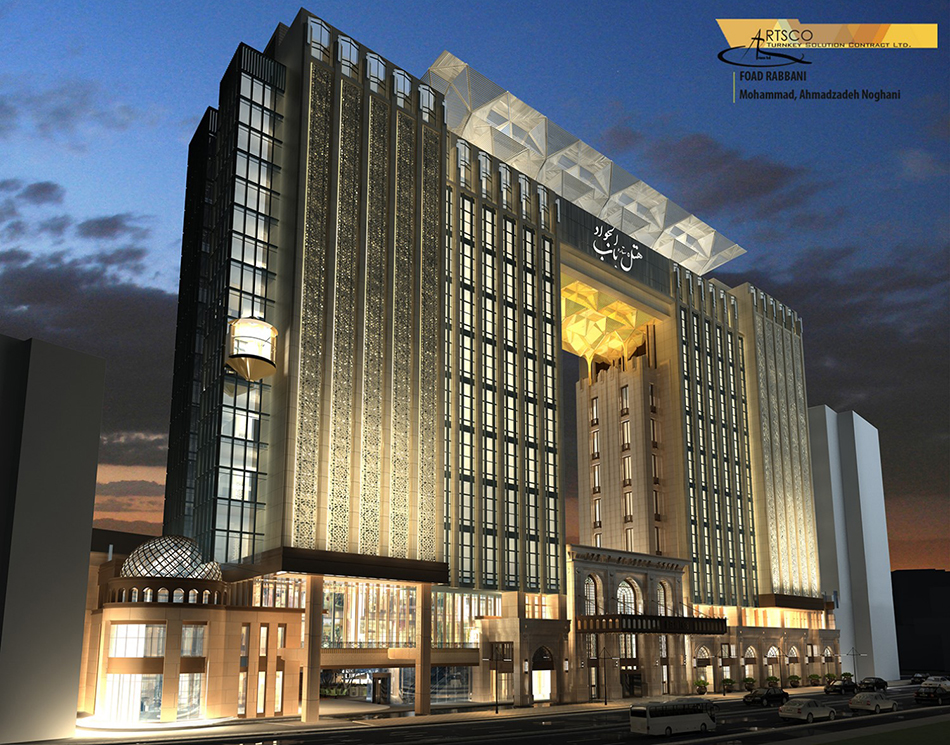 Zomorrod Project
Location: Mashhad city
Façade Area: 1900 m2
Project Date: 2020
Maxees Tower
Client: private
Location: Mahmoud Abad
Façade Area: 1700 m2
Project Date: 2019-2020